Webinar
Transitioning to Full Registration
16 Oct 2017 - 1:00 PM to 2:00 PM
Presenter: Tony Pelusi - Manager Accreditation & Professional Standards
Program Description: Provisionally registered teachers are required to demonstrate the Australian Professional Standards for Teachers at the Proficient Career stage to transition to full registration. In this workshop participants will find out about the requirements of this process.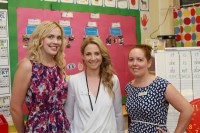 ---
How to Register:
To register for this session, please provide all required information.
Search for your name or QCT registration number in the box below.
Click on the 'This is me' button next to your name to automatically populate your name and registration number in the form.
Enter your email address.
Fill in the optional information sections to help us plan for future events.
Click on the 'Confirm Registration' button.