Webinar
Professional Boundaries
16 Oct 2017 - 11:00 PM to 12:00 PM
The QCT has developed the Professional Boundaries: A Guideline for Queensland Teachers to support Queensland teachers in their relationships with students.
Join Legal Officers from the QCT as they explain the key components of the QCT's Professional Boundaries Guideline.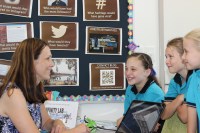 ---
How to Register:
To register for this session, please provide all required information.
Search for your name or QCT registration number in the box below.
Click on the 'This is me' button next to your name to automatically populate your name and registration number in the form.
Enter your email address.
Fill in the optional information sections to help us plan for future events.
Click on the 'Confirm Registration' button.